REVIEWS:

"Giant Haystacks' angular snot-nosed punk sounds like it could've come from Boston in '83 (makes it all the more endearing)"
David Shawn Bosler - The Village Voice

---

A REBIRTH OF OUR CITY 7" EP

"If Allan, the singer and guitarist of Giant Haystacks, gained a hundred pounds and learned to dance like a gleeful rhinoceros ballerina in homage to D. Boon, the transformation to the Minutemen would be complete. I jest, but Giant Haystacks have taken the honor roll of peppy, spry, smart, and insightful songs that the Minutemen are getting their long-deserved due for, and then have internalized what made them so powerful in the first place. It's not all about short-burst, slippery string work, but about the concerns of their world - this time gentrification - while not taking a condescending tone. They also fully understand that the angularity must bend back on durable ligaments, that songs work best when built on dance molecules, and are soaked in platelets of real blood. What this means: the Wayback Machine is gathering dust in the garage, the Giant Haystacks have lit their own torch, and these three songs are great." - Todd Taylor
RAZORCAKE

"Three song EP from these Oakland post-punkers. Honestly, when a band is from Oakland and Mitch Cardwell hasn't at least mumbled something good about them between bites of a torta, I have reservations. Because there is no better Bay Area music-barometer than (MC). But, I have been intrigued by Giant Haystacks for a bit. I found the 'Blunt Instrument' LP semi-good, but not great. It was a record I had to try too hard to like, so I gave up. I have another EP by them that I forgot I even had, which sums that one up. It seems like I know what they are going for, and it's something I want to hear, but they just don't quite get there. The vocals might be just a bit too conversational, too plain, the bass playing a bit too noodly, the guitar scratch a little too obviously Andy Gill-via-Tim Kerr. They replicate the post-punk Rough Trade/Gang of Four and 'Double Nickels...'-era Minutemen sounds pretty well, but don't bring anything else new with it. The songs lack the underlying energy and charisma that made the bands they are admiring so original sounding and personable in the face of the sometimes dry sounds. Lyrics (about empty slogans, blank faces, the same places, etc...) are fittingly bleak but also not very provoking or rousing. The whole formula comes off rather bland and sounding flat. The things I really liked about this record: it was recorded at the Dutch Oven (which is the best name for a studio ever) and was released on Pizza Pizza Records and has the catalog number Slice01. The music, I didn't dig so much. Buy 'Blunt Instrument', which I think was their best outing, and proceed from there if you feel it necessary. And if you can help me figure out why I don't like this band and I like the Geisha Girls, please let me know. (RK)"
TERMINAL BOREDOM

"The title track is possibly my favorite Haystacks track to date; smart lyrics and a boatload of hooks. In the sea of punk rock mediocrity, Giant Haystacks have always stood out from the pack, if only because they sound like no one else. Sure there's elements of the Minutemen, Gang Of Four, or the Big Boys, but really they just sound like... well, Giant Haystacks. Clean guitar, off kilter bass lines, and Allan's Scots drawl coupled with clever and bleak lyrics that always remind me of a Scottish council estate... only smarter. The recording is a little thinner than the full lengths', but I really think these are some of their best songs, so they could have recorded them in a bathtub and they would sound good. Hold on while I spin the title track again. Class." (TB)
MAXIMUMROCKNROLL #282

"One good release after another for Giant Haystacks. The latest is a three song EP featuring their sharp sound. Strong musicianship without any sense of pretentiousness and good melodies and two of the three songs make observations about their city - the clash of cultures between the gentrifiers and those still struggling. I've namechecked the influences before (M**men, G**g Of F***). Yes, it's POST PUNK, there's familiarity, but when it's this well played, this fresh-sounding, after a pile of soundalike records, it's welcome." - Al Quint
SUBURBAN VOICE


FCC VIOLATIONS Cassette
"Giant Haystacks are one of the Bay Area's finest bands, and this cassette tape, called FCC Violations, compiles two radio appearances, one from May 2005 and one from March 2006 (with new bassist Alan, formerly of Your Mother). This band has only gotten better and better, mixing excellent, thoughtful lyrics and art with sometimes somber and sometimes playful (post-)punk. The song "Young Shavers" always gives me chills when they play it live, and their newer stuff is among their best and most catchy yet. The opening song, a noisy instrumental jam featuring guitarist Jer Reid reminds me a lot of The Ex, who Giant Haystacks usually only call to mind peripherally. Anyway, I really love this band, and this tape is no exception, but act fast 'cause there are only a hundred copies out there." (Golnar)
MAXIMUMROCKNROLL #282


ARMEDALITE RIFLES/GIANT HAYSTACKS Split EP

"GIANT HAYSTACKS is one of my favorite local bands to see - they have this rad energy, which sounds like lame-o hippie talk but I mean it in a smashed-block-on-the-dancefloor-mod-rocker way. Like being up all night with a pile of early JAM 7"s and a bootleg video of THE MINUTEMEN. Allan's lyrics are reallly incisive and cool - it's politics with a beat; I guess an easy reference would be the first GANG OF FOUR 7" but I think they are looser than that with some BIG BOYS/MINUTEMEN style. ARMEDALITE RIFLES are from New York and are going for a late-70s mod revival/power pop sound, but they don't quite get there to these ears. I hear a definite STRIKE influence, but they are a little more straight-up pop punk than I like anyway. But this is a great 7". Totally recommended, and on clear vinyl too!" (LG)
MAXIMUMROCKNROLL #280

"Giant Haystacks: Think Three Way Tie (for Last)-era Minutemen, sprinkled with Nomeansno. The initial knife-point blurts of their early work has been redirected to mid-paced, heart-felt, believable punk funk. That said; it didn't initially grab me as hard as the earlier material, but I have a feeling this'll grow on me. Armedalite Rifles: Reminds me of political and introspective, rough-hewn punk (pop and otherwise) of the '90s (Strawman, bits of Swiz, traces of Jawbreaker, the two songs of Fifteen that I can listen to until the self-righteousness chokes me). I rarely say this because I'm no sucker for fidelity, but their songs sound too hot, and I think these guys would totally benefit from clearer recording so their intricacies arenĻt lost." ≠Todd Taylor
RAZORCAKE

BLUNT INSTRUMENT LP/CD

"Before even listening to this I could have told you that it's great. One of the best live bands in San Francisco these days, GIANT HAYSTACKS has an admittedly MINUTEMEN-influenced sound, with some GANG OF FOUR similarities as well. But the listener will grow to appreciate GIANT HAYSTACKS on their own merits: intricate, tight, quirky, and memorable tunes, incredible musicianship (without sounding show-offy), and vocals that are subtle, friendly, and serious all at once (could it be the Scottish accent?). The lyrics are equally obtuse, and then brilliant upon further consideration. This is even better than their amazing debut CD, We Are Being Observed. Why don't you buy this record? Why?! (Paul Curran)"
MAXIMUMROCKNROLL #265

"As much as I love this band, I was still surprised at how much I liked this album. It's less frantic than the first one, We Are Being Observed, but that doesn't detract from the music. Where the early stuff just ran for the finish line, Blunt Instrument takes its time and fleshes out some really great melodies, and also eliminates the Minutemen comparisons. There's a Jam-like ring to the guitar, and it's almost poppy. And they write great lyrics, to boot. It's self-released with hand-screened LP covers. Best record I've heard so far this year. - Josh"
RAZORCAKE #26

"On their second LP (following 2004's We Are Being Observed), this Oakland trio continue with their terse, disjointed punk, running through 12 songs in just over 19 minutes. Though they are often compared with The Minutemen, they really recall a more angular, sparse Mission of Burma, mixed with Pink Flag-era Wire and Group Sex-era Circle Jerks. Scottish ex-pat Allan McNaughton's guitar riffs are choppy and abrupt, Daniel Sofaer's basslines hard and nimble, and Nathan Daly's drumbeats are vigorous and jittery. The songs don't adhere to typical verse/chorus structures, with the three singers almost talk-singing their stark prose, addressing the frustrations arising from life's ongoing, machine-like routines. The band sports a convincing post-punk sound and outlook, though future releases should address the too-repetitive arrangements and playing. - Mark Suppanz"
THE BIG TAKEOVER #56

"The post-punk controlled burn known as Giant Haystacks is one of the finest live bands in the Bay Area. The act's songs are as dire and quick as the action on a firing line: percussive, precise, and terribly tense. Blunt Instrument, the Oakland trio's latest album, boasts a Pink Flag-like commitment to speed, snarl, and spazzy ennui, jerking through 12 clean, dark (but pop-tinged) songs in 19 minutes. The lyrics are incisive and nimble, but the angular sound menaces with all the brawn of the original Giant Haystacks (the stage name of an enormous, enduring British professional wrestler). Modern post-punk attracts a lot of insincere young dabblers, but rest assured the Haystacks are grown-up, excellent musicians with serious intent to inflict harm (plus, they don't even have cool haircuts). Singer Allan McNaughton's sarcastic, marble-mouthed delivery may sound textbook at first, but he's Scottish, so you don't have to feel like a sucker for loving it." – SF Weekly

"Our new favourite Scots-Californian trio, Allan and pals deliver another outrageous smash'n'grab on the sensibilities of UK moshpits reared on Leatherface and The Wedding Present. You know the drill from their debut album - a dozen tracks in under 20 minutes, seldom over the 120 second mark, and the vast majority clocking in at sub-60 seconds. So why do we need this if we have their previous releases? Simple. GH stick to their winning formula, with another bag of top tunes, all hitting a blistering chorus once and once only before moving on at haste to the next hook. The thrilling jangle of 'Catatonic State', 'Election Day's half-speed grind, and instrumentation on 'Life Goes On' that would sandblast the sharp edges off supposed 'angular' acts, all make this a must-have album for young punks and old alt-rockers. SMcH [5]"
IS THIS MUSIC? #16

"First vinyl album by Giant Haystacks is called Blunt Instrument (Mistake) and it's as beautiful as any tongue surface. Mixing the unstoppable flop motion of early Burma with the vocal angularity of mid-period minutemen, this SF trio turns guns into butter with the best of 'em. (Thurston Moore & Byron Coley)"
ARTHUR #17

"'I like short songs' sang Jello Biafra, for about 20 seconds. It appears from this rapid-fire LP that Giant Haystacks second that emotion. The 'stacks cut, chime and clip with their guitars at once recalling Beefheart atonal-blues, whilst also submersing themselves in electrically-charged, post-punk waters - a combination best espoused on "Valour". "Catatonic State" is perfect as an opener, fitting with the pop of the recent new-wave cap-doffers (Franz, Futureheads) without being verbose or over-produced. While skirting with the zeitgeistyness, Giant Haystacks nonetheless stand alone. (Skif)"
VANITY PROJECT #14

"Although Giant Haystacks' moniker creates visuals of those rolled oat barrels often seen on the sides of dusty, Midwest two-lane highways, the album's title hits closer to home. Blunt Instrument is based on bare bones instrumentation with the emphasis lying square on the shoulders of lead vocalist Allan McNaughton. Having a spunky-ness typically found in overseas blokes, it wasn't until I read the bio that McNaughton was a Scottish transplant that his verbose manner made sense. Their raw nature harkens back to the early days of British or New York punk, where songs were less than two minutes long, were cloaked with raw bravado, and topics rarely touch on lost love but had a heavier insight into everyday life on the streets or in a dungy motel bedroom. And when the "L" word actually peaks its head, it's presented as more of side note than as the basis for angst or joy, "Young shavers get jobs in call centres / Catch the train home to watch East Enders / A quiet night in / Maybe go down to the pub / Maybe meet someone / Maybe fall in love / This is all there is." Then there's "Closing Time Scene" that kicks in with a cross between Devo and the scene in "So I Married An Axe Murderer," where Mike Myers' character is reciting off-beat, "Woman, Wo-Man, Woooooo-Man" North Beach poetry with a kick of quirkiness. All in all, Giant Haystacks pulls a punch, hitting the mark with what I would consider to be a back-to-basics approach to punk and rock'n'roll. In the June 2005 issue of Maximumrocknroll they were hailed as "One of the best live bands in San Francisco these days." You'll be able to judge for yourself when they come through town this Saturday, May 14, playing Hi-Dive with Joshua Novak, Sanawon, and Modern Crime." (Athena Prescott)
KAFFEINE BUZZ May 13th 2005

WE ARE BEING OBSERVED CD

"Three things in life are certain: death, taxes, and any review you read about San Francisco Bay Area's Giant Haystacks will mention Gang of Four. Why? Because the band sounds a lot like them. Although the album featured here, We Are Being Observed, is not their latest (that would be 2006's Blunt Instrument), I thought this would be a good way to introduce readers to this quirky, angular, and impressive punk band. 2004's We Are Being Observed alternates tempos from song-to-song; the guitar is reminiscent of GoF's Andy Gill; and the entire experience is like taking a hot, clean shower after spending a night in a dark, sweaty basement listening to gurgling crust music. It's good to know this kind of punk is still being made by someone.

We Are Being Observed starts with the up-tempo "The War At Home," immediately setting off Gang of Four alarms. This is aided by vocalist Allan McNaughton's welcome Scottish accent. Yes, even though the band are American, the vocalist and founder is actually a Scottish immigrant. Thankfully he hasn't lost the accent over the years he's been here (since 1995, from what I understand). Somehow, hearing the accent from the British Isles on this recording makes the band seem more authentic, like you really are hearing something from the age of Gang of Four and Joy Division. Whether that's an Anglophile's prejudice on my account or not, I don't know -- but the vocals work as is, regardless. In magazine reviews, Giant Haystacks have garnered comparisons to everyone from The Ex, to the Minutemen, to The Jam. And, yeah, I can hear all that in here, too.

Incidentally, Giant haystacks vocalist McNaughton writes a regular column for Maximum Rock 'n Roll magazine, and through email he told me the band formed after he placed an ad on Craigslist in Oakland, searching for suitable band mates. To him I mentioned that the band also has hints of Repeater-era Fugazi in them, a comparison he said he hadn't heard yet. I was surprised. There is something about them that at times reminds of very early Fugazi, even Jawbox, when Jawbox had just released their first LP, Grippe. The beginning of post-hardcore, but still punk. Just in a slightly different, non-soundalike way.

In short, there really is a heavy post-punk feel to all this. But if this same album were released in 1979 it'd easily qualify as punk, alongside Stiff Little Fingers and The Jam and bands like that. Either way, it's still a damn fine release for our own bizarre decade that seems to think nothing but dark crust or Ramones-y bands are punk. Giant Haystacks' guitar does not indulge much in heavy power-chord riffing; to the contrary, it is disjointed, jerky, and revels in more intricate post-punk type structuralism than in the 3-chord bluntness of many other contemporary punk bands. McNaughton's vocals and excellent guitarmanship lead the way while the drumming follows. At times the drums stutter confusedly, bur purposefully -- and aso at times lay down proper 4/4 rock and roll grooves, occasionally speeding up to thrashier tempos. The point is, it varies, and does not stick to a consistent formula. This works well for the band. We Are Being Observed excels in any category you'd care to place it in, be it punk, post-punk, or anything else." (Oliver Sheppard)
STRANGE REACTION

"Frankly, it's amazing that the Minutemen template hadn't been resurrected sooner, but it's awesome to see it as a transparency carefully placed down over modern times. The frenetic short-hand guitar, the popping, looping, and lunging bass, the loud but spare and on-target drumming, the vocal bursts, and the cryptic, poignant, and witty lyrics are all there. The Giant Haystacks don't sound like they're hanging out by D. Boon's (RIP) gravesite in San Pedro, but have further refined an alternate, updated universe that's worthy of Double Nickels On The Dime's legacy. I'm also selling them a little short with the Minutemen comparison. I also hear the raggedy-edged, catchy pop of Gang Of Four's Entertainment! and the confident flexing of three guys who've nailed smart, complex songs without wanking off. Excellent stuff and highly recommended. (Todd)"
RAZORCAKE #21

"With so many damn records coming out these days too many of the good ones are not receiving the attention they deserve. Giant Haystacks, obviously, is one of the good ones that isn't reaching all of the kids that could - should - very well be worshipping this band. Sounding like The Minutemen blended with Mission of Burma in the twenty-first century, this trio from Oakland craft short catchy songs with political and social influenced lyrics, jangling guitars, dance drumbeats (for a few seconds here and there, anyway) and some Scottish snarling to top it off. We Are Being Observed showcases fourteen songs in twenty-seven minutes, but despite the short lengths of the songs, each one is complete: neither lacking nor lasting a second more than needed. (Andrew Murphy)"
SKYSCRAPER #17

"The prevailing windbags would label this art rock, raffishly referencing Gang Of Four, Wire, Minutemen, Mission of Burma and yadda yadda. Well if what art rock means is the fusing of angular choppy jangle-toppy guitars with ragged chopped vox over the top of tribal-taut Parkinson-nerved drum patterns, then so be it. And, so, step forth Allan McNaughton, lately of Scotpunx Glue, newly relocated to Oakland, devilish and effervescent, experienced and incandescent. And, so, Giant Haystacks' debut album flips, flaps, and fleas itself round that post-punk-funk-spazz itchiness; terse dynamic of dark pop delivered with fervour and no small quality. (Oh, sorry, I forgot: er, two The Falls and one Sub-Mission. Or something.) (Joe Shooman)"
PLAN B October 2004

"Wow! This is spazzy, jangly punk rock that immediately reminded me of the Minutemen. I've been known to say "If you don't like the Minutemen, there's something wrong with you." There's absolutely nothing wrong with Giant Haystacks and their passionate and provocative take on punk rock. This rules.(Jay Castaldi)"
PUNK PLANET #63

"Ah, Scottish anti-pop. When the first wave - Lungleg, StretchHeads and most notably the Yummy Fur - imploded, another band, Glue, also split, with Allan McNaughton heading for the USA. However, the former guitarist is keeping the Saltire flying for spiky, jerky pop that sees this album boast 14 tracks in 27 minutes. No chaff, just spasmodic guitar which keeps the indie-rock sensibility of Wire or the Wedding Present under check and allows Beefheart and Bogshed influences to run free. Only on 'Town Of Stone' do they make a decent stab at anything that could be called 'slow' or even a 'ballad'. They do break the 2 minutes barrier on a total of 3 occasions, the rest pretty much breakneck rushes through the wreckage left when Franz Ferdinand's new Bentley collides with Dawson's Transit. For anyone following the new Scottish gentry, meet the bastard disinherited ancestry. (SMCH - 4.5)"
IS THIS MUSIC? #14

"Brief, jangly, and exciting post-punk from Oakland, CA. GIANT HAYSTACKS summon the MINUTEMEN and introduce them to my anxiety problem. Quirky, yet highly listenable stuff. We're being observed, huh? Then, you think they just saw me fucking that Cool Ranch Doritos bag? Damn, I wonder if they taped it, I'd like a copy. (Brian Nervous)"
HORIZONTAL ACTION #13

"There hasn't been a band around town like this for a while, someone who can reference both the EX and the MINUTEMEN without achieving a 'trying too hard to be obvious about it' vibe. The songs are totally catchy and propulsive without surrendering anything to treacle poppiness. It makes me think of the early Allied Records releases, actually. There's also an MRR creep in this band, so go over our little initials and guess who... AC? AD? MC? FU? (RW)"
MAXIMUMROCKNROLL #254

"In my days as a pre-teen wrestling fan, I had the pleasure to witness Giant Haystacks in action live at Portsmouth Guildhall, rather bizarrely as a good-guy against Kendo Nagasaki's heel. I was certainly spoilt back then as Big Daddy, Pat Roach and the formidable Klondike Kate also passed through - even if all were past their prime (if indeed they were ever in it). Good honest family entertainment, not like the X-rated cack the Yanks offer up nowadays. If this California band, formed by Scottish ex-pat Allan McNaughton, were a wrestler in their own right, they'd wear a mask and khaki leotard, both fairly ragged and torn, and they'd enter the ring in a trout mask and a greying cardigan. To be less abstract, they allow themselves 27 minutes to rattle through 14 tracks of rickety punk, and although it never comes close to blowing its 'Stacks, its pretty vibrant stuff. (Skif)"
VANITY PROJECT #11

"The word that comes to mind when listening to "we are being observed" by Giant Haystacks is "manic". The band has an abundance of energy which is lucky because the album manages to race through 14 songs at remarkable speed and is over almost almost before it has begun.
Before you ask though Giant Haystacks is not a 1970s wrestler who wore a blue leotard, who unmasked kendo thingie. Well he is, but not in this case. In this case Giant Haystacks are a threepiece punk rock band from Oakland, CA.
Every noise on the CD is made at speed. Each beat is frenetic, guitar riffs are rapid, and vocals spoken hastily. This is not music to fall asleep to, or to hold the hands of the boy you love. This is not music for slow walks in the park, or lazy afternoons in the sun. This however, is exactly the type of music that you'll need when you are out of coffee. Even after a late night and early morning you'll find it impossible to fall asleep listening to this band. Its a cacophony of noise, but done in a way that grabs you by the proverbials. Thier namesake would be proud. (Rachel Queen)"
FRIENDS OF THE HEROES #86

"I love three piece bands and I especially love them when they sound unremitting and make you wonder why there are other bands that have more than 3 members in them. That's GIANT HAYSTACKS. Inventive and insistent, short and razor-sharp and that's my bag. (Marco)"
NO FRONT TEETH Webzine
---
HOW WE LOST THE WAR EP

"Giant Haystacks, especially with 'How We Lost The War', has the tense, choppy punctuation of political UK art bands from Gang Of Four to Red Monkey. The songs on the B-side are held together less tightly, but are still imaginative and urgent. There's also a DC influence here - Lungfish comes to mind. A stand out debut EP. (AC)"
MAXIMUMROCKNROLL #239

"Riff nabbers! And who the hell isnŪt these days? The Jam and/or Gang of Four should be taking immediate legal action for this case of British post-punk thievery. Semi-spoken vocals and jangly clean guitar hammer out riffage so catchy you'd swear you were actually reading this review in Vice Magazine and Giant Haystacks were nothing more than a bunch of art school snobs from Williamsburg playing bar shows to sleazy bridge-and-tunnel groupies full of somas. Cheers! MM"
HEARTATTACK #38

"This Bay Area three-piece also have a demo out and, while the title track on here is incredible, the other songs don't always have the kineticism of that CD-R. I'm still recommending it, though. A strong Minutemen influence with strong instrumentation and sung vocals."
SUBURBAN VOICE #46

"Sounds like a mod version of The Punch Line era Minutemen, which doesn't make a hell of a lot of sense to me, though I guess this is not the gravest crisis of faith ever brought upon me by the postmodernist era. Might be the crude, early baby steps of a band that grows to do things of substantial tremendousness in the future; might be the only tolerable record by a band that later becomes an aggravating pack of pretentious weenies. Only time will tell, but they're sure not winning any friends by adorning their front cover with a photo of a row of airport lobby seats - possibly the one image guaranteed to cause a Pavlovian homicidal reaction in everyone who comes across it. BEST SONG: "How We Lost The War" BEST SONG TITLE: "The Pigs Vs. The Kids" FANTASTIC AMAZING TRIVIA FACT: Band makes no mention whatsoever of '70s wrestler Haystacks Calhoun, even though, tipping the scales at 500 pounds or so, one cannot help but view him as the only appropriate choice for band mascot. - Rev. Norb"
RAZORCAKE #16

"This really may not be of interest to most of the readers of this rag, but I found this rather appealing in a nostalgic way. Jangly awkward punk that hits on the style of bands such as GANG OF FOUR (maybe minus the sharp jagged guitar of GO4) or THE PROLETARIAT. Glum, bored vocals help the overall effect. An interesting departure harkening back to the days when hardcore wasn't so cut and dried... and predictable."
SHORT, FAST & LOUD #10

---
C'MON WEE MAN 9-song Live CD

"Giant Haystacks have a live CD here called C'mon Wee Man. It has 9 songs (all pretty short) from an on-air performance at KZSU radio station. The sound isn't bad for a live recording, but it's not as good as you would think you would get from a radio show, either. If you like their 7", then this might be worth picking up. If you've never heard them, then it sounds like a mix between late 70s British punk and the Minutemen. "How We Lost The War" is such a good song. (Pete)"
MAXIMUMROCKNROLL #252

---
AT LAST... THE LIFESTYLE YOU'VE EARNED CD/Zine

"Some influences that you don't hear with every band, these days: the Minutemen and Mission Of Burma, to name two obvious ones. Jabbing/scraping guitar and a propulsive rhythm, as well as pointed lyrics and Giant Haystacks elaborate on some of those ideas and offer some other observations in the accompanying lyric booklet/zine. They've also got a 7" out with songs that weren't on this demo and that's worth checking out, as well."
SUBURBAN VOICE #46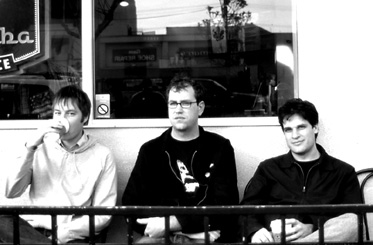 L-R: Allan, Nate, Alan.
ABOUT US:
Giant Haystacks: 2001-2007 Giant Haystacks got together in late 2001 when Scottish ex-pat singer/guitarist Allan McNaughton joined up with Californian Nate Daly via an ad on the community website Craigslist. A second ad on Craigslist delivered New York/DC transplant Daniel Sofaer to play bass.

We have released one seven inch EP and a couple of limited-edition CDs on our own label, Mistake Records. Our first full-length album, We Are Being Observed, came out in May 2004 on SmartGuy Records. Our newest album, Blunt Instrument, was released in March 2005 on Mistake. We've played shows throughout the US, from weekend jaunts up and down the West Coast, a Southwest tour in 2004, to our first national tour in May 2005. In April 2005 we flew to the UK for a week of shows with our friends in Projections.

We've enjoyed a lot of radio airplay, from spots on the charts of college stations KZSU Stanford and KUSF San Francisco to spins on the John Peel and Steve Lamacq shows on BBC Radio One.

In June 2005, after three and a half years, ninety gigs, several demos, a seven inch, and two albums, bassist Daniel Sofaer left Giant Haystacks amicably to move back to New York. In August 2005, Alan Kasameyer took his place. More touring and recording followed. Giant Haystacks played their last show on April 27 2007 in San Francisco, just before drummer Nate moved to Albuquerque, NM to begin a family. Several posthumous records followed the breakup.
In the Autumn of 2007 Allan McNaughton and Alan Kasameyer joined forces with drummer Todd Harms to begin a yet-to-be-named project and hope to begin playing shows in early 2008.

Click here for hi-res photos for publication.